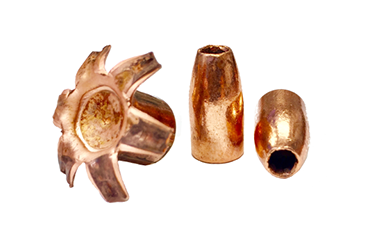 The SCX was designed for law enforcement and personal defense. This bullet will outperform many of the traditional pistol bullets because of its excellent weight retention, which allows it to maintain a straight line through barriers. The SCX expands over 1.5 – 2X its original diameter, creating devastating stopping power. This 100 % Copper projectile is a perfect match for everyday carry and self-defense applications.
355115SCX - 9MM Luger .355" 115 GR SCX
400140SCX - 40 S&W .400" 140 GR SCX
451185SCX - 45 ACP .451" 185 GR SCX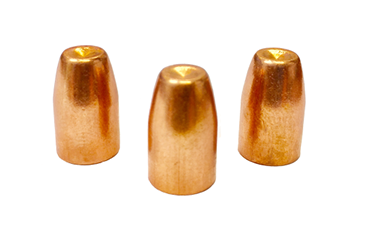 The SC was designed for affordable plinking and range shooting. Recyclable and environmentally safe, this 100% solid copper bullet is lead free and provides the perfect option for range shooting, bullet recycling, training, and your everyday plinking needs.
355070SC - 380 ACP (9MM) .355" 70 GR SC
355090SC - 9MM Luger .355" 90 GR SC
400125SC - 10MM Auto .400" 125 GR SC
451150SC - 45 ACP .451" 150 GR SC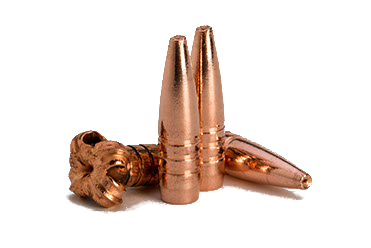 The Sig Sauer HT was designed as a hard hitting, deep penetrating bullet ideal for hunting big game animals. This 100 % copper projectile achieves a 90%+ weight retention and expands 1.8 times its diameter. Engineered as a high performance bullet, its design also features grooved cannelures that result in lower pressure, reduced fouling, and improved crimping ability.
7600315 – 22 Cal .224" 60 GR SIG HT
7600459 – 6.5 Creedmoor 120 GR SIG HT
7600257 – 300 Blackout 120 GR SIG HT
7600311 – 30 Cal .308" 150 GR SIG HT
7600444 – 30 Cal .308" 165 GR SIG HT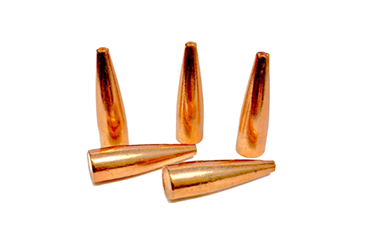 The SC rifle bullet was designed for affordable plinking and range shooting. 100% solid copper and lead free, SC rifle projectiles are an excellent choice for range days, bullet recycling, field training, and affordable plinking, while providing an environmentally safe alternative to lead.
224055SC – 22 Cal .224" 55 GR SC
308110SC – 30 Cal .308" 110 GR SC
308150SC – 30 Cal .308" 150 GR SC